I finished my first dishcloth. I'm happy with my first foray into the world of useful knitting. I have come to the conclusion, however, that I really don't like variegated yarn. I always
thought
I didn't like it, but now I know so. Maybe something more subtle would be better. But I digress.
Back to the issue at hand. I have grown an odd connection to my creation, and cannot bring myself to stick it in the dish towel drawer. I'm sure I'll get over that eventually, but for now, I just keep moving it from counter to table and then back again, keeping it from getting dirty. I'm such a dork sometimes.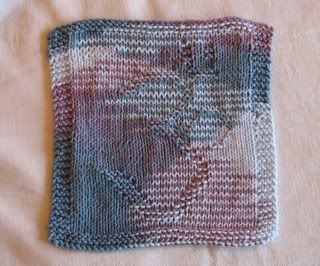 Anyway, I've started on a new cloth with a star pattern in the middle. I'm hoping it will be Christmassey and and pretty enough to give as a gift.