A couple of weeks ago, I decided to make fingerless mitts. I've posted about it, but never got around to showing off the finished product. I'm still in need of a better pattern, though. I have oddly skinny hands, and the pattern as written was just not right for me. I am wearing these all the time, even though they are too short to keep my wrists warm. I tried to take pictures of me wearing them, but I have yet to master the art of photographing my own hands.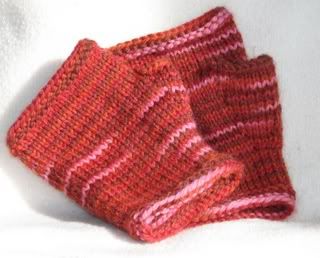 Then I started making a
Mr. Dangly monkey
for my daughter. The pattern calls for it to be knitted flat, then seamed, but I hate seaming. And I am bad at it. So I broke out the teeny DPN's and some Caron Simply Soft yarn, and went to town. I wanted it to be washable, thus the acrylic yarn. This stuff splits like there's no tomorrow. It is soft, but NOT enjoyable to work with. So Mr. Dangly remains a one-armed, legless deaf monkey. Poor little guy.
While avoiding the aforementioned critter, my friend Becky showed me the current object of her affection, the
Lady Eleanor stole.
Of course I got all obsessed over it as well. With the leftover yarn from the mitts project, I decided to try my hand at entrelac. It is seriously addictive. I love things that are easy, but look impressive. Yes, my life (and hobbies) are all smoke and mirrors.
I've managed a few rows of the entrelac, so I think I'm ready to tackle a real project. I'll probably go with something a little smaller (and something that doesn't sing out for such expensive yarn-- I'm cheap like that). I'm leaning towards the
Danica
scarf from Knitty. We'll see what happens.
That's all for now. Forthcoming is the story of the Great Homebrewing Debacle of '07. Let's just say that Duct Tape really
can
fix anything.