I've finished the little
scarf
that I started a few weeks ago. I made it long enough to tie at the back of my head instead of being just a headband. In fact, if push came to shove, I could use it as a belt. I might have gotten a little carried away. It's made from Omega Sinfonia cotton from Hobby Lobby. Since my previous cotton knitting experiences were all with dishcloth cotton, this sport weight mercerized cotton was really nice. But I do wish it were a little narrower.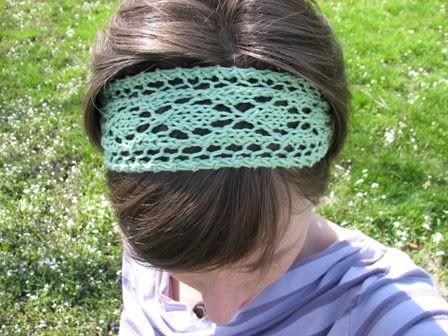 In outdoor news, I created a new flower bed yesterday. This had previously been a weedy patch of weeds, with weeds growing all over it. But now, after a whole bunch of time getting my fingers dirty, it is home to a new raspberry bush, and some spinach and lettuce. I 'm thinking about extending it along the fence and putting in a bunch of asparagus and rhubarb. I still need to figure out how to edge it. I don't like those little plastic flower bed edge thingys, but I need to do something to keep the weeds (and my husband's lawnmower) out of there. My poor trillium were decapitated last weekend in a horrible lawnmower accident. I'm still not over it.
Some giant yew bushes to the left of the picture will be removed in the next few weeks, thus allowing much more sunlight to the area. That is going to be a humongous task. But the bushes are huge, and serve no purpose except to steal valuable sunny real estate in my mostly shady property.