Anyone who knows me knows that I am not a lace person. I have never been a lace person. Nor have I even been a fan of pink. Or ruffles. Or overly feminine clothing. So why have I become obsessed with knitted lace? And dream of making something like the
Pacific Northwest Shawl
or
Scheherazade
?
I spend too much time browsing the internet, looking at the beautiful shawls women have made for themselves, wondering if I could possibly master the art of knitting laceweight yarn in a huge complicated pattern. And could I master knitting from a chart? In my first attempts at chart-reading, I kept getting confused and knitting random rows backward. Have I mentioned that my fingers have a tendency to knit willy nilly, not paying attention to pattern or number of rows? (I'm working on that, though).
Whatever the reason, I keep imagining myself with a huge beautiful shawl wrapped around me, looking horribly elegant in spite of my my t-shirt and jeans. I don't know, but it is a strong pull. I just need to practice a little more before I go tackling the
Peacock Feathers Shawl
.
In the meantime, I'm practicing on sport weight yarn and a small pattern. This is the
Kendal insertion
, and I plan to make it long enough to tie back my ever-longer hair. It's not perfect, but it
is
progress.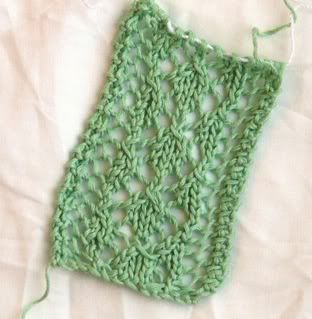 P.S. I also need to learn the art of photographing lace. I promise to get good at that soon, too.